2011- Amore's nominated for "Indie  R&B Artist Of The Year" for the 2010 SEA Awards Show http://www.southernentawards.com/ballot/vote.html

3/2010- Amore' Rayne nominated for "Best R&B Female Single- Soul Mate" for the Metro City Music Awards. http://www.metrocitymagazine.com 

3/2010- Amore' Rayne Won 2010 SEA Award for "Best Indie Album Of The Year for my album Girl Like Me" http://www.southernentawards.com/ballot/vote.html

9/2009- Amore's nominated for "Indie R&B Album Of The Year" for  the 2010 SEA Awards Show http://www.southernentawards.com/ballot/vote.html

9/2009- Amore's nominated for "R&B Female Artist Of The Year" for the Queen City Music Awards      Show http://queencityawards.com/nominations.html

9/2009- Amore' Rayne featured in SEA Magazine issue # 7

8/2009- Amore' Rayne Won ''Best Female R&B Artist Of The Year'' @ The CMA's  Awards

7/2009-Amore' Rayne Interviewed & featured in The  Post And Courier "Preview" news paper

7/2009- Amore' Rayne featured on www.carolinaallday.com

7/15/2009- Amore' Rayne's Sophomore album ''Girl Like Me'' released

7/2009- Amore' Rayne won "Best Female R&B Artist Of The Year'' @ The 2009 GeechieOne Awards Show

7/2009- Amore' Rayne & Marly Mar Won "Best Song Of The Year" @ The  2009 GeechieOne Awards Show

7/2009-Amore' Rayne's "Girl Like Me" Album reviewed in the SC's  Post And Courier "Preview" news paper

6/2009- Amore' Rayne nominated for ''Best R&B Female Artist Of The Year'' @ 2009 SC Music Awards

4/27/2009- Amore' Rayne's New Album "Girl Like Me" released for digital downloads

4/2009- Amore' Rayne Nominated for "Best Female Artist Of The Year" @ GeecheeOne Awards Show

3/30/2009- Amore' Rayne/Blue Diamond Music Group Released the 1st single from her sophmore album titled "Show Off".

3/2009- Amore' Rayne won "Best Indie R&B Album Of The Year (Journey)" @ The Southern Ent Awards in Tunica Mississippi.

1/2009- Amore' Rayne Collaborated and co-wrote with Marly Mar on a southern hit called "Take Control". It spent countless weeks at the #1 spot on southern radio stations. It spent so many weeks at the top on Z93 Jamz that it had to be retired. It is currently in regular rotation on many stations.


12/15/2008- Amore' Rayne won the "Best Female Artist Of The Year" awards @ The Queen City Music Awards Show in Charlotte N.C. www.queencityawards.com




8/2008- Amore' Rayne featured in August 2008 Edition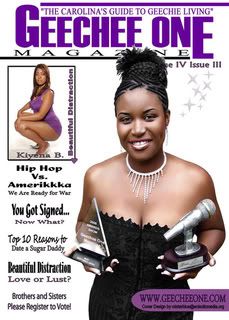 8/2008-Amore' featured on Indies Urban World
www.indiesurbanworld.com
8/2008- Amore' featured on Jamonio Sky Box Entertainment
www.jamanio.com
8/2008- Uncle D's Word On The Street Mag
www.wordonthestreetsmag.com
8/2008- Amore' featured on
www.talkofsc.com
8/2008- Amore' featured on
www.indiethemag.com
http://www.indiestreetent.com/home.html
8/2008- Indies Urban World Press Release:
www.indiesurbanworld.com
I had the opportunity of interviewing this talented singer/songwriter on my radio broadcast a short while ago. It's always (for me) a very pleasant surprise and a great pleasure when I find an artist with a personality and persona equally as wonderful as their talent. I found Amore' Rayne to be just that type of artist. She's warm, engaging, open and honest...what most people that meet her (I'm sure) would call "real folks". Even though I was having obvious difficulties with the interview (equipment failure and many other things going haywire) she remained involved in the interview itself...never once did she lose focus or seem disintrested. In fact, with all the problems that I was having, she was the one that actually help me feel at ease. She's busy promoting her CD entitled "Journey", playing various venues and events.  Get information (and an updated itinerary listing her appearances and tour info) from her myspace page. You can also purchase a copy of her CD from the web page. I've had the pleasure of hearing it, and, every song on this CD is one that I throughly enjoyed. It gets a high 5 stars from me...this one I highly recommend.
7/2008- Amore' Crowned Best Female R&B Artist Of The Year @ The SC Music Awards
7/2008- Comment left by fan on "Whats Your Fancee? website www.fancee.wordpress.com
Quote: MUSIC LOVER said,
July 4, 2008 at 6:08 am
JAZMINE HAS A BEAUTIFUL VOICE. THOUGH SHE IS COMPARED TO LAUREN HILL A LOT SHE HOLDS HER OWN GROUND. ANOTHER HOT SINGER IS A YOUNG LADY CALLED AMORE' RAYNE. MAN I HEARD HER ON THE STEVE HARVEY MORNING SHOW. WHEW YOU TALK ABOUT GIVE YOU CHILLS. MAN, SHE HAS THIS SONG CALLED MY LIFE, THAT SONG IS SO BEAUTIFUL. IT'S ARTIST LIKE JAZMIN AND AMORE' THAT GIVES ME HOPE FOR THE MUSIC SCENE THESE DAYS. YOU DON'T FIND REAL VOCALIST LIKE THEM TOO OFTEN. EVERYTHING IS SOUMDING THE SAME. SO KUDOS TO JAZMINE AND AMORE' RAYNE FOR KEEPING TRUE SOUL MUSIC ALIVE.
I LOVE GOOD MUSIC
6/2008-Amore' Rayne featured in GeecheeOne Magazine www.geecheeone.com
6/2008- Amore' nominated for "Best Female R&B Artist Of The Year" @ The SC Music Awards (The Niche Carolina Magazine) 
4/23/2008- Amore' Rayne awarded "Best New Female Artist Of The Year" at the 3rd annual GeecheeOne Magazine Awards Show in S.C. www.geecheeone.com 
3/2008 -4/2008 -Amore' has been nominated for Best New Female Artist Of The Year for the 3rd annual 2008 Geechee One Awards Show.
www.geecheeone.com
9/19/2007- Interview w/ Uncle D on the Uncle D Morning Show 9am
9/2007-3/2008 -Amore's hit single "My Life" has charted between #16 and 26 on the Independent Music Network Charts. It curently is charting.
8/2007-9/2007- Featured in RMP Magazine www.rmpmagazine.com
8/1/2007- Amore' Featured in Urban Mainstream Magazine August 24th Edition....
"Amore' is raw talent from the south with a lot of potential to make things happen."
Shinobi- Editor-in Chief/Urban Mainstream Magazine
Aug. 1st Issue: Vol.#24 (weekly) 
6/2/2007- Interview with "Wild Wunz Radio" @ 10:30pm Depaul.radio.edu
6/15/2007- Interview with Ms Panther on BLOGTALKRADIO.COM/HOODTALK @ 7pm
6/22/2007- Panel guest on BLOGTALKRADIO.COM/HOODTALK with Ms Panther @ 7pm
6/2007- Amore' currently climbing charts at www.hardcorejamz.com and www.royal-radio.com
6/2007- Amore' featured on www.hardcoremix.com in the top artist spotlight.
6/2007- Amore' s hit single "My Life" holds the #1 spot on Hardcoremix Top 5 Charts for 4 weeks straight.